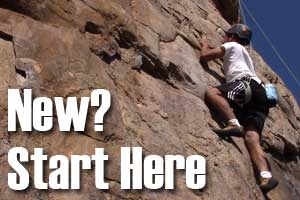 I'm so glad that you dropped on by. We're here to make rock climbing easy for you. Our goal is to train you to rock climb from the ground up.
Want to learn how to climb?
Not sure what gear you will need for your next trip?
Interested in connecting to hone your climbing skills?
This website is the place for you.
We offer easy to follow instructional videos to introduce you to safe climbing techniques and the gear that you will need to get going. Our videos will share simple strategies that will help you to overcome fears and negative beliefs related to climbing. I am stoked to be available for you to respond to any questions or thoughts you have about rock climbing.
Each week, I'll be adding new videos and articles to this site that you definitely don't want to miss out. But don't you worry, you can stay up to date by sharing your name and email in the sidebar to sign up to be part of the Smart Rock Climbing Community.
On your marks. Get set…
I'm so glad you came by to check us out. Alright, its time to start exploring. Go forth!
Share: