In my  30+ Climbing Guides and Instructors Speak Out article, I gave a brief quote from Michael Fahey. I wanted to share what he said to me with you as a valuable lesson in learning about the value of connecting with other climbers. Here you go:
Beginning to Climb
I began rock climbing outdoors with an AMGA Certified Single Pitch Instructor (SPI). My wife (who was my girlfriend at the time) had taken a rock climbing class through the local university and her instructor invited all the students to join him out on the rocks any time after the semester had ended.
The first weekend after the class ended, my wife took me rock climbing for my first time. I had no experience climbing and had never even seen an indoor climbing gym. Looking back, I believe this was extremely beneficial to me as I've seen others transition from the gym to outdoor climbing and go through different growing pains than the ones I experienced.
Why don't you guys tell them what they're doing isn't safe?
From the beginning nothing was more important than safety! Everything we did we checked, then double checked, then checked each other again. The extreme safety check process was very reassuring to me as a beginner. I knew I was in the right hands for learning this beautiful life long practice where making a mistake is not exactly how you want to learn what not to do! Rather than make our own mistakes, my buddies would point out mistakes being made by others. I would frequently ask why nothing was ever said. Why don't you guys tell them what they're doing isn't safe? Why don't you guys let them know that tree they're anchored to with only one anchor leg supporting their whole system is hollow and rotting and likely to collapse under the force of a real fall?
I quickly learned why nobody ever said anything the first time I offered someone my thoughts on their unsafe top rope setup and got chewed out as if I had insulted their girlfriend! We continued climbing in our group where we were comfortable with everyone's safety practices and belay abilities. Before I knew it several years had gone by and I had become a much better climber but had totally isolated myself from the rest of the climbing community. It was easy to climb with the guys I was comfortable with and not reach out to anyone.
Finding Friends
I began climbing in the gym in addition to my real rock adventures to get a little extra training in. The guys I climbed with preached against the plastic indicating it would do little or nothing to help with my real rock skills.
After climbing in the gym by myself for quite a while, I reached out to a small group who I had seen night after night and had felt comfortable with their safety practices. Before too long I had reached out to several people in the gym and even made a few friends that were willing to venture away from the gym and climb outside with me. All of a sudden a whole new world of climbing opened up to me. A world with people of different skill levels and different knowledge bases was so diverse and educational to me. I began working projects with people of the same skill level and spent endless hours beating our heads against the rock trying to figure out one dicey move.
Sharing Experiences
Years later I went to take my AMGA course and certification exam. My instructor emphasized the same thing I had been feeling, that there was nothing more important than the community. We are all in this together and the only way we will progress as a community is to help educate each other by sharing our experiences. There was nothing more valuable to me than learning from the guys that brought me into the world of climbing. They were so adamant about teaching me all of the right things to keep me alive and for that I am eternally grateful.
Looking back however, I wish they had also stressed the importance of staying connected throughout the climbing community a bit more. Without each other we would all be set in our ways no matter how antiquated the techniques we are practicing might be.
The only way to continue to grow as a better climber and person is to stay connected and communicate! Don't be afraid to reach out to others because you never know who might teach you something that will make your climbing life that much better and possibly save your life!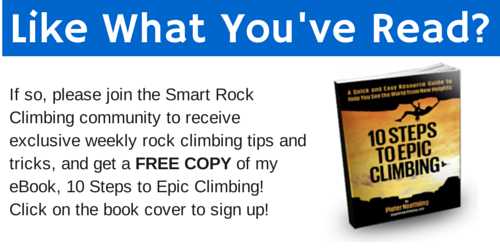 Share: