Aaaaaaaaaaaaaahhhhhhhhhhhhh!
Friend or Foe?
In this video, I talk about how the wall can be your friend while climbing, but, during a fall, can become your enemy. I know this lesson personally.
A while ago, I fell during a lead climb. As I fell, I did my best to lighten my fall as much as possible to help my belayer catch me (lets just say that I weighted quite a bit more than her).
Trying to grab ahold of the wall as I fell, I became convinced that I made a dumb choice. Scraping my finger tips pretty bad, my enemy, the wall, won the battle.
I should have trusted my belayer, and the equipment to hold me in the fall.
Getting Up Again
Not long ago, my friend has a fall that could have seriously hurt her head. Shortly afterwords the fall she said "I need to go climb again today." She got up, fought the fear and finished a climb.
A rough fall can affect a climber's nerves. If you're healthy and not injured. Getting back on the rock can be helpful to confront fears that might keep you off the rock for weeks or months. You want to be smart about it, but overcoming that fear, step by step, is essential to keep going.
Your Story
Do you have any lessons learned from a fall? Feel free to share them below. I want to hear your stories and what you have to share.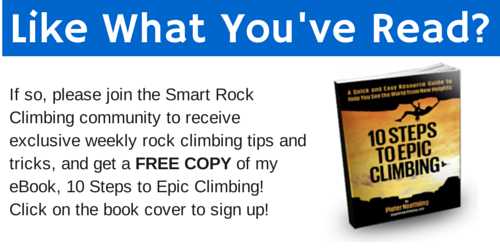 Share: