A question that keeps coming up when I talk to new people about climbing is "If I don't have any gear, what items do I need to get to get started."
Well today I am going to show you the basic climbing kit to get you and a climbing buddy started. My goal for this post is to get you and a friend climbing for about (and hopefully under) $250 each. If you have the items on this list, you should be ready to climb practically any classic top roped rock climb that you can hike to.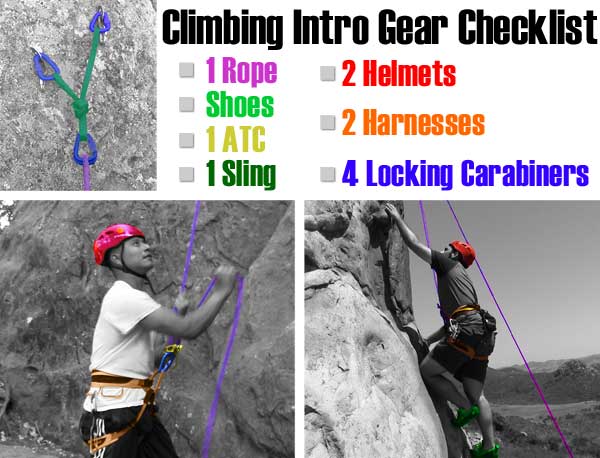 Gear for Each Climber
To get started, both you and your friend are going to need a harness. This piece of gear keeps you connected to the rope while you climb. Harnesses come in different colors and sizes, but you will want to find a harness that will be comfortable to wear on the rock. You can get a harness for about $45 so we will put $90 towards harnesses for both you and your friend.
Next, each of you will need a pair of shoes. Now if the shoe fits, each of you can wear the same pair of shoes when you climb, since only one of you would be using them at a time. You can grab some decent starter shoes for about $80 so we'll add $160 to our total. I personally prefer spending a bit more on shoes when I climb because they are such a key piece of equipment. Here's a link to my favorite type of climbing shoe (Here's the link to the woman's version).
One more thing. If you plan on going climbing, I really encourage you to get a climbing helmet. There are a variety of sizes and types of helmets that you can get, but you can get a decent helmet for about $60.
Gear for the Belay System
To set up your anchor, you will need a sling or two. I enjoy using a 240 centimeter sling for my climbing because it gives me maximum flexibility. These tend to cost about $25.
Then we will need four locking carabiners. You will use three of them to set up your anchor and you will use one of these for belaying a climber. You can get them for a bit under $10 each so we'll add $40 to our total.
To also help with belaying a climber, you will need an ATC. You can get one of these simple devices for around $15.
And last but definitely not least. Get a rope. The typical length for a rope is 60 meters. I like to have a rope that is about 10 mm thick.  Prices for rope can fluctuate based on the type, but you can definitely get a decent rope for under $160.
When you bring all of this gear together, it will cost you just about $500. The great thing about going in on gear with a friend is that you get to share the costs of the gear that you both would use.
Where to Get Gear
To help you get started, there are a couple retailers that I suggest you use. One thing I like about these retailers is that they tend to have pretty awesome return policies. So if those climbing shoes don't seem to be the right fit, you can usually send them right back without a problem.

As a disclaimer, I believe so strongly in these retailers that I have become an affiliate marketer for them. This means that if you would like to support Smart Rock Climbing with no additional cost, simply click the links above before you go shopping. A portion of what you pay will go to Smart Rock Climbing for directing you to their site.
If you choose to get any gear through my affiliate links, please email me at Pieter@SmartRockClimbing.com so that I can thank you personally for your support.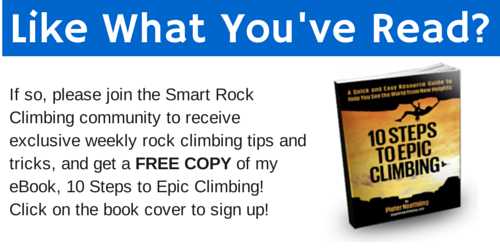 Share: