A number of years ago Nike asked us a question: "Is it the shoes." To be honest with you, I really think that it is.
A Reverse Cinderella Story
So my Robert (the guy in many of my videos), struggled to find a pair of shoes that would work for him. He began by trying on some shoes in a store that fit good and felt somewhat comfortable but, when he tried them out on the rock, they didn't seem to do the job for him (sometimes less expensive shoes, while they can be a good deal, don't perform at the same level as slightly more expensive shoes).
Hesitantly, he took them back to the store, determined to find the right shoe.
Later, after exploring more about shoes that he could get, he jumped online and grabbed a pair which, although the functioned well, were not the right size. these too were shipped back so that he could get a smaller pair. Then lo and behold, the third pair fit nicely and worked great.
And they lived happily ever after.
Finding the Right Fit
The reason why I share the silly story above is to let you know that sometimes it can take some time to find the right fit for you. when possible, try several kinds on before committing to a pair. But, as I mentioned in the video, if they aren't the right pair for you, don't be shy to send them back.
A good pair of shoes can drastically improve your climbing experience, so be sure to get a good one.
Getting a Good Resole
As I promised, here's a couple links to places to get your shoes resoled and repaired:
The time frame to get your shoes back from a company can vary, but I've heard that it can take up to a month to get them back. Contact the store to see what their turn around time is looking like and maybe get the shoes resoled during a time period when you might not need them.
Connect
Socks? Sockless? Gollem Style? The debate continues; let me know how you like to wear your shoes when climbing.
Also, if you have any tips or tricks for dealing with smelly shoes, feel free to share them below. I'd love to use your comments in a future video.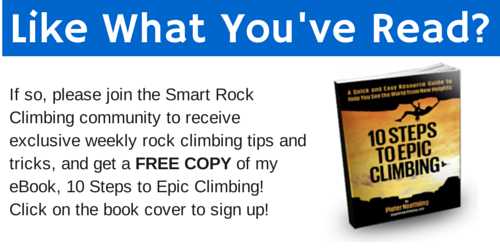 Share: