One of my favorite things about climbing is that it is a team sport. A good belayer can make all the difference in how a climber approaches a climb.
Non-Verbal Communication
The best belayers that I work with are those that can anticipate my needs without me communicating with them.
As you belay, you will be able to tell, without even looking at the climber, if they need slack to be taken out of the rope. I can feel the tension of the rope in my harness and in my left hand, which tends to be on the climber's side of the rope.
You are able to communicate that you understand the climber's needs by managing the rope well. As they feel your attentiveness, they will feel more and more secure to take the risks necessary to complete more challenging climbs.
Before "Belay's On"
In The Language of Climbing video, I introduced the climbing commands "On Belay, Belay's On, Climbing, Climb On." If I am belaying a climber, before saying "belay's on" I will check out the belay system to make sure that everything is looking good. Here's a quick check list of things to look for:
The rope isn't twisted at the anchor
The climber's and belayer's harnesses are double backed
The climber's knot is tied correctly
The belay system is attached correctly
the belayer's belay loop isn't twisted
The locking carabiner is locked
After doing a breif check of these things, then I will say "belay's on"
Other Belay Methods
Using an ATC is not the only way to belay a climber. The first climbers simply had the rope running around the back of the belayer and then they would cross the rope across their body if a climber fell (ouch!).
There are many other tools that can be used for belaying a climber. In the future, I will release additional videos to show you some of the other tools of the trade.
Share the Love
If you haven't yet, I'd love for you to share this video series with your community. I love seeing new climbers out on the rock and would love to build our community here at Smart Rock Climbing.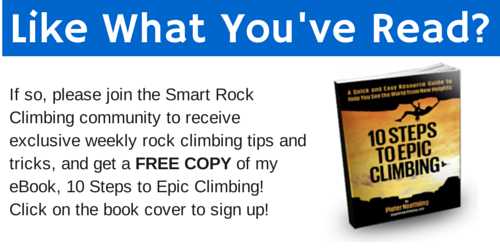 Share: