Everything in the world, from school to sports, has its own unique languages. As you begin rock climbing, it can become overwhelming to remember all the different terms. To help you shuffle through this dictionary of terms, we will go over some of the basic terms that we'll be using as you learn about rock climbing.
Blah Blah Blah
Now, the terms that are used in this video might still sound like a bunch of jargon to you. One thing that I have learned about learning a language is that the best way to learn it is to put it into practice.
As you begin to climb, the words that seemed so foreign to you will become second hand.
Correction
I have one quick correction that I need to make from this video. A member of the Smart Rock Climbing community, Eric, has brought it to my attention that lowering and Rappelling are two different things. So to clear things up here you go (from the REI Climbing Dictionary):
Lower—The way in which a belayer brings a climber down from a climb (as in after a fall or repeated attempts) by slowly letting rope out through the belay device. More often done during gym or sport climbing than in traditional outdoor climbing.
Rappel—To descend a cliff or other height by lowering oneself on a fixed rope, with feet against the wall. Friction is placed on the rope, usually with a belay device, to keep the descent slow and controlled. See free rappel.
Connect
If you have been climbing for a while, is there a term that you learned, but was difficult to really grasp. If so, please share below.
If your new to this site and our community, feel free to leave a comment to say "hello" to the Smart Rock Climbing Community and share what you'd love to learn.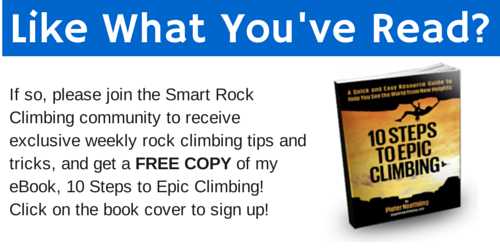 Share: