Finding myself on the side of a beautiful crag is nothing new to me. Since I got hooked to outdoor climbing years ago, I have made regular adventures part of my repertoire.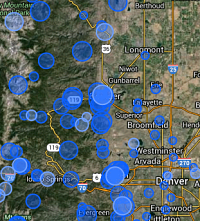 But when I planned my trip to visit my sister and attend a climbing conference in Boulder, CO, I found myself a bit overwhelming to pick a climb out of the 80,000 climbs available in the area.
After hemming and hawing for a while, came to the conclusion that this might be a great educational opportunity for me. Thought I'm quite the cheapskate, I decided that hiring a guide for a full day would be a worthwhile investment in my climbing education.
Eeny, meeny, miny, moe
Selecting the right guide or the right company to go with can be challenging. For this, I somewhat lucked our by being in contact with someone when piecing together my  30+ Climbing Guides and Instructors Speak Out article.
If I were going to go about it again (as I am currently doing for a South Africa trip I'll be taking next year) here's a couple things to consider when choosing a guide:
Location, Location Location: It can be helpful to figure out where would would like to go. Some climbing spots only allow a few guide services to operate within it. If you know the specific area you want to go, that can help with your search.
Certification: It is important to know what certifications a particular guide has.  The main certification agency for guides in America is the American Mountain Guide Association. You can search for guides on their Hire a Guide Page.
Are they Legit? Use the same discretion that you would with any other business or service. Check out their website, see if they have any helpful reviews, how long have they been in operation, see what their social media looks like. All of these indicators can help you determine if they take their work seriously.
My Personalized Lesson Plan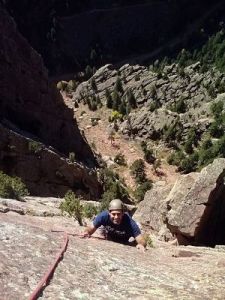 One of my favorite things about hiring a guide is that I get to set the goals and learning objectives for the day.
So before I even arrived in beautiful Colorado, I sent the following email to the my guide to let him know my goals for the trip:
I thought that you might like to know about what I'm hoping to do ahead of time. I've got a good amount of climbing experience (more sport and top rope than trad). In my area, the nearby climbs aren't too long. It's still good fun, but I'm hoping to get some exposure to some 4+ pitch climbs.

I would also like to gain more experience in trad, so your input into other climbs to explore during my trip would be helpful. I'm super comfortable with almost any climb up to 5.8 and can do most 5.9  climbs I encounter.

I hope this info will help you know a bit of what I'm hoping to experience during our time together.
Being able to give my guide this kind of information was helpful for them. In I shares some key pieces of information:
I'm got some experience (Please don't give me a basic belay lesson)
Success for the day will be climbing some longer climbs (I really wanted to practice my multipitch techniques)
I'm pretty comfortable on moderate climbs (This is helpful so that we don't have to bail on a long, tough, climb)
I'd like to get some trad experience
Awesome. So before I even meet with my guide at the gym, they can have a picture of what the day might look like and can think of what climbs might be a good fit for our day.
Let's Go Climbing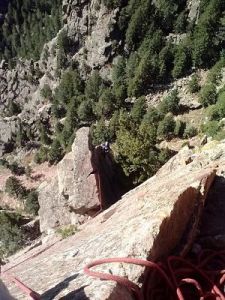 After flying in on a Saturday evening, enjoying some great Indian food, and spending a day adjusting to the boulder atmosphere while hanging out with my sister (I live pretty much at ocean level and boulder is at 5,430 feet), I was ready for some climbing.
Meeting Ian Fowler at the climbing gym at 8:00 am, we chatted for a brief moment about what climb to conquer for the day and then headed out in my little sister's Toyota toward El Dorado Canyon.
As we made our way into the canyon, I shared about my interest in getting some experience on doing some longer climbs. I did not mention that I was curious to see how I would handle being several hundred feet up on some exposed rock. So when Ian asked me, "How are you with heights," I casually replied "pretty good."
Shortly after, I remember asking him about how he handles fear when doing a dicey run out route. He simply shared "I try to focus on what I have to do in the moment" instead of psyching himself out.
We made our way to the base of Rewritten. This climb is a classic six pitch climb in El Dorado Canyon. We fortunately got to the climb just before another group arrived.
As Ian made his way up the rock, I paid particular attention to how he placed gear in the rock, spacing his pieces in a safe, yet efficient manner. As I followed each pitch after him, I learned that a great piece of education for me was to clean up gear after him.
Unexpected Lessons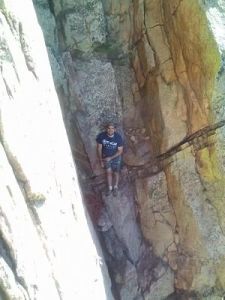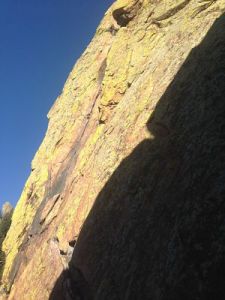 Since I'm usually the guy leading climbs with my friends, I have had a limited amount of experience in removing gear (and usually that experience has been when almost lost my gear to the rock because I was so freaked out about trad climbing). Being able to pull the gear that Ian placed during the climb taught me powerful lessons on how to place trad gear.
He didn't place trad gear like the freaked out climber that I have been in the past. He made sure that it was placed well, and also tried to have it in a place that would be easy for me to pull it when I followed him. Since climbing with him, I've tried to be more mindful as I safely place my gear.
For anyone who has climbed Rewritten, they will be very familiar with the exposed traverse on the fourth pitch. As I belayed my guide up this relatively easy, yet nerve racking, traverse, I came to the realization that this was my time to see how I will handle climbing on some high exposed rocks.
After being on belay and packing up the gear at my belay point, I grabbed hold of the crack that I would traverse along. As I inched away along the wall, I chose to do what Ian recommended and "focus on what I have to do in the moment."
I was surprised to find that I was able to make my way up the wall as if I was doing the first pitch of my favorite climbs back home. Since this experience, I find myself excited to tackle some longer climbs in the future.
Go Speed Racer
A highlight for me during the day was to find out how quickly we were able to cover ground throughout the day. I wasn't trying to rush things along during our trip, but I wanted to see how efficient we could be as a team on our journey.
Keeping our systems clear, and as Ian used great rope management skills, we were able to keep climbing without needless pauses.
To help improve our efficiency, Ian tried to upgrade my clove hitch tying technique. I wish that I could say that I got it on the first try. I actually tried this knot on each pitch, and most of the times it ended up as a girth hitch. I must have been over thinking things. Anyways, It was a helpful lesson to learn.
By lunch time, we made our way to the top of Rewritten. I was stoked. The day and our efficiency was better than I had thought it would be (since this was my first major multipitch experience).
We ended up hiking our way down to our packs at the bottom of the climb and then were able to tackle another classic climb: the Bastille Crack.
Classic Climbing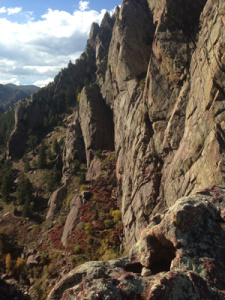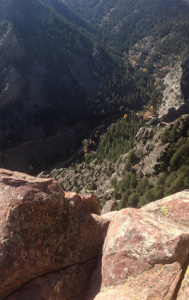 Tired from my first long multipitch experience, I found myself ready to tack on another five pitches of climbing to my day.
This climb begins right on the road that goes through the canyon and makes for a beautiful spot to see hikers get smaller and smaller as you climb up the wall.
I found the first pitch a bit more challenging than i probably thought it should be. I wonder if it was the lack of chalk on my hands that slowed me down or the thought that four more pitches of exercise followed it.  Either way, things seemed to ease up as I chalked my hands and made my way up the next couple pitches.
Since my initial goal (to climb a long climb) had been met in the morning, this climb was really the cherry on top to my day. Maintaining the momentum that we gained during the morning, we sped our way through this climb while finishing on the 5.8 overhung finish.
A Small Step in the Journey
As we made our way back to the gym to finish our day, we took time to chat about life away from the crag. He shares about his family and about his journey to work in the United States.
At the gym, I expressed my appreciation for his service throughout the day and thanked him for his advice.
One thing that struck me throughout our trip was how Ian kept asking if I had any questions or would like to learn anything. Though I didn't ask many questions, since my main objectives were being met by climbing two long climbs)  it was nice to know that they were invited. When you go on a trip with a guide, remember that they are eager teachers and would love to show you new techniques that would take your climbing to the next level.
More climbing was in store for me during that week in Colorado, but that day was definitely a powerful step to help me go further in my climbing journey.
Epilogue of Sorts: Things To Know Before You Go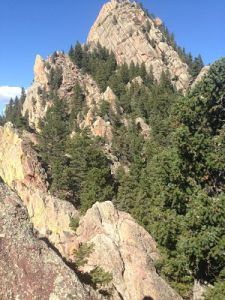 Before I go, I wanted to share a couple tips and things to take into consideration before you go on a guided trip:
Be informed of the costs: A guide service is not like an airline with many hidden costs, but there are some things that you should probably be aware of in addition to paying for the service. Be prepared with some cash to take care of needs:
Tipping is common (Tips tend to be about ??% of the service fee)
Entrance fees to the Park
Set some Goals: After completing my journey, I came to firmly believe that having clear goals for your climbing experience can make the trip meaningful for both the climber and the guide. Take a minute to identify what you would like to accomplish on your day. It'll make every penny worth it.
You're the Driver: For most guide services, you are expected to be the driver for the trip. Just be aware of this (so you don't have to borrow your little sisters car last minute like I did… THANKS SISTER).
Gear: It's Definitely helpful to come prepared for the day. Here's some pieces of gear that you probably want to bring along with you (If you don't have some of the climbing specific gear, check with the guide service to see if they have some that you could use for the trip).
Harness
Shoes
Chalk Bag
Helmet
Locking Carabiner (For Clove Hitches)
Belay plate and Locking Carabiner
Food
Water
Clothes needed for the weather.
Cash (Tips and Entree fees mentioned above)
Thank you for joining me in my journey to explore the beautiful landscape and climbing opportunities of Colorado. It was a pleasure to explore this part of the world. I will be back.

Comment
Have you gone climbing with a guide before? Share your story below!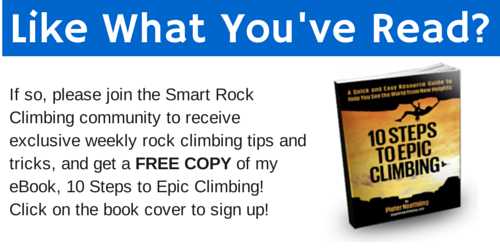 Share: