Welcome to a great starting place for anyone new to climbing. Whether you've got some climbing experience or your brand spanking new to the sport, this page will give you valuable resources to help you begin.
It can feel like there's an encyclopedia of knowledge that you have to learn when you get started. At Smart Rock Climbing, we make things simple for you and have created 45 minutes of free videos to teach you how to start climbing.
The ABCs of Climbing
To get you started, we've got two videos that will help introduce you to the sport of rock climbing. Getting comfortable with some of the basic concepts and language of climbing can really help make things easy as you begin.
For your reference, here's the list of terms that I covered in this video:
I really encourage you to get familiar with these terms. If you want to learn climbing terms, you can check out our climbing terms page where you can find easy-to-understand definitions and links to the videos where I first introduced those terms.
Put on Some Gear
It's helpful to familiarize yourself with the fundamental gear used in rock climbing. Though wearing shoes and a helmet might be something that you are familiar with, these videos are going to dive in a little deeper to talk about how they are used in climbing.
Put on a Harness
One thing to remember: when putting on a harness, don't forget to double back it.
When putting on a harness, whether it's majorly twisted or knot (get it :-p), I always begin by finding the belay loop. It totally makes things easy to find and quick to put it on.
And, Put on Some Shoes
Climbing shoes really feel magical. I'm consistently impressed how well they stick to the rock when I climb. If you want to check out my favorite pair of comfortable climbing shoes, you can check them out here.
But, Don't Forget a Helmet
A helmet is a sadly neglected piece of gear for the climbing community. Though I don't want to twist your arm into wearing a helmet, here's my list of reasons why you might want to wear a helmet:
Protection: Protect your self from injury and rock fall by wearing a helmet.
Fearlessness: when you feel safe, you can step out and take greater risks.
Community: Most climbing groups require you to wear a helmet. Wear one so you can get to know other climbers.
Get on the Rock
Now it's time to get on the rock and try climbing. We take some time to talk about the role of the climber when climbing. In the next section, we will talk about the belayer, who keeps the climber safe as they climb.
Tie a Figure 8 Knot
Get yourself connected to the system. This know is great to keep you safe.
To review, here's how to tie the figure 8 knot:
Make a bend in the rope (about a yard down)
Choke the rope (crossing over the other end)
Poke it through the eye (and then tighten it to see if i's an 8)
After threading it through your lower and upper reinforced tie in points then thread back through the knot:
Through
Around
Through
Around
Through
Then tie an overhand knot (if needed) to keep the remaining rope out of your way.
Learn some Climbing Tricks
I don't want to sound arrogant, but I love this video. The tips presented were learned through years of grunting while struggling my way up rocks. Consider this your jump start into smart climbing techniques. To review, here's some quotes from the video:
Use handholds and footholds. These are cracks, ledges or textured parts of the rock that really help you to get up the climb.
I really suggest that you use your legs while climbing… If my legs are bent, I can push them further.
Keep Moving. Not franticly. Not chaotically. I just really encourage you to keep moving
Classify them (holds) based upon how long I can use the handhold.
Communicate with your belayer.
Fall Safely
It's going to happen. At some point you're going to fall. That's why learning to fall safely is important. In review:
Keep calm and fall on
Bend your knees
Put your arms out to maintain your balance
Be aware of swinging
Lower off the Rock
Getting back down from the top can be a fun part of the climbing experience. Sitting back and lowering down can look like a couple simple steps:
Say "Lowering" to let the belayer know that you would like to be lowered.
Sit back in your harness, giving the belayer your weight
Widen your stance as you walk down to stay balanced
Belay the Climber
Belaying another person is a unique way to build a friendship. The climber is literally trusting you with their lives. Being a safe, solid belayer is a very helpful skill to have.
To belay a climber, you will need:
A locking Carabiner
An ATC
Your climbing harness
Check out the video foe the steps to take in rope, lower a climber, and brake the rope when a climber falls. Remember that you want your rope to be in the default brake position as much as possible to keep the climber safe during a fall.
Build an Anchor
Creating a solid anchor in a timely manner is essential in climbing. This video shows you the simple process of building a bolted anchor.
To build an anchor, you'll need:
4 Locking Carabiners
1 Sling (I use a double length nylon sling in this video)
This video shows you how to make:
An Equalized Anchor with a fixes master point that you can clip your carabiners into
A Self-Equalizing Anchor with a master point that can adjust based upon the direction that weight is being put onto it.
When building a self-equalizing anchor, remember to add stopper knots to the anchor and create a magic-x so that you are protected in case one of the bolts came out.
For more anchors, I really encourage you to check out the SRENE-SA video which goes more in depth concerning anchor building.
Next Steps…
Thanks for checking out my introductory series to climbing. You have just touched the tip of the iceberg.
From here, there are many paths that your journey can take. To help you stay equipped, here are some resources that can help you get on the rocks.
Getting Some Gear
Getting gear can sometimes be confusing if you are not familiar with what you need. Buying gear that you don't actually need can be a costly mistake.
Fortunately we have a section of our website that will help you find the right gear t for your climbing needs. To get you started,  you can check out the Climbing Starter Kit for all the basic gear that you and a friend would need to get started.
Go with a Guide
You are about to start doing a potentially dangerous sport. Because of these risks, its good to go out with a rock climbing guide to make sure that your skills are solid enough to keep you safe.
To learn more about going with a guide, check out this article I wrote a trip I took with a guide. It give you practical advice on how to find a guide and what you need to know (that they sometimes don't tell you beforehand).
Become Epic
Beginning with these steps, you are on your way to becoming an epic climber. TO take you further, I have created a resource that will show you the steps you can take to go from being a newb to being a solid climber. You can download if for FREE by clicking here or on the image below.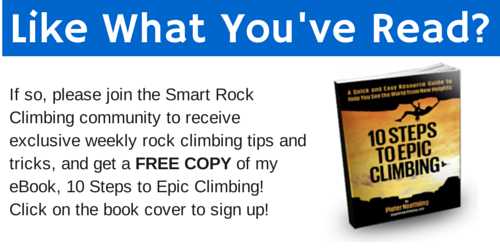 Share: